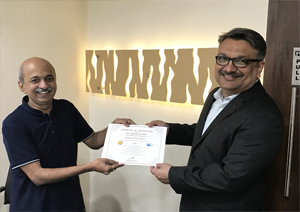 Joining Hands between Dhananjay Gokhale and Rajon is another effort to bring more awareness and generating Interest about Project Management.
Rajon as Partner being mentored by Dhananjay Gokhale to further promote/market and facilitate on his behalf and under his guidance.
Microsoft Project Scheduling Hand holding
Many organizations and project managers therein use Microsoft Project. However, the tool many a times is used more as a presentation tool than a project scheduling tool. Project Managers are found frustrated
Effectively Using Microsoft Project for Project Success
Awareness – Interest – Enthusiasm – Use – Frustration – Going Back to XL smiley is a life cycle of use of Microsoft Project. This course does not only teach the tool but also helps
Effectively Reviewing Microsoft Project Schedules
Reviewing and analyzing a project schedule is equally important as planning and tracking the schedule. Reviewing the schedule demands more fundamental
Bringing Visibility and Predictability in Projects
A situation: …
"So…what's your project all about? How's it doing? How would it go?" … A sudden,…………
Journey from "I" to "We": 8 sessions of half day each.
Businesses, whether large or small, are starting to recognize the importance of empowering their staff in order to bring about better results. In today's target driven world
By-For-Of the Stakeholders: Managing Stakeholders
If we twist the definition of the democracy in the context of the project management & leadership; it would appear as
PMI-RMP® Examination Study Facilitation Workshop
This is course is aimed at facilitating the complete and comprehensive studies necessary for appearing for and clearing the PMI-RMP® (Risk Management Professional)…….. …….
PM-Rhythm-Certification Course in Project Management
Project Management is equally important for managing large as well as small projects. In fact, PM skills and techniques can be utilized partially or wholly……..
Project Management Office (PMO) Set-up
The premise behind the enterprise project management is that it should permeate the organization. The project management office (PMO) is a key………
Project Management Competency Assessment
A number of organizations try to define and document project manager competencies. Many factors like a sound understanding of competencies, competency grades, facilitators' interviewing & inference…….
DGTAL